Pérola formada em 1974 na cidade Cidade do México, o grupo
Decibel
começou como um trio, mas logo depois se tornou um sexteto. A banda conseguiu destaque local no final da década, quando lançou o primeiro disco e liderou o movimento progressivo mexicano, tocando no Festival RIO de 1979. Infelizmente se desfizeram precocemente, quando vários membros começaram novos projetos. O grupo ainda teve uma breve volta no fim dos anos 90, resultando em um novo CD.
Posto aqui o álbum
El Poeta del Ruido
, original de 1978 (também datado como 1980), mas em sua nova edição de 2003 contando com 8 músicas originais mais 8 bônus tocadas ao vivo entre 1978 e 79. Trazem um som bastante inovador para a época, com claras influências experimentais europeias, como avant-prog, RIO e free jazz. O disco é todo instrumental, onde se revezam piano, sintetizadores, violino, sax e percussão, criando uma atmosfera "sombria", densa e viajante em vários momentos. O destaque fica para as faixas mais longas, apesar de ser interessante ouvir toda a obra e tirarem suas conclusões.
Com certeza, um álbum que não é para todos os ouvidos, mas altamente recomendado para fãs de avant-prog e RIO.
Decibel - El Poeta Del Ruido - 1978 (MP3 192 kbps):
https://mega.nz/#!1k5ykajB!ZMSQR56VTr1mxVlKudsoK8hzU4a-vK9teg_B4vCTu_0
Arguably the king band of Mexico's avant-rock, Decibel stated their radically challenging musical vision from the very first seconds of their very first release "El Poeta del Ruido". All members of the basic quartet formed by drummer Castañeda, violinist Sánchez, bassist Schmidt and keyboardist Robledo double and alternate in several other instruments (reeds, woodwind, synths, percussion, etc.), and are not precisely shy on the use of console and magnetic tape effects in order to enhance and/or focus the massive weirdness encapsulated in their collective ideas. The presence of guests on string and woodwind instruments also helps to make this inscrutable repertoire a bit more colorful than your usual RIO album. Solid and bold, Decibel's RIO offering is evidently open to influences from Henry Cow, Faust (their concrete-friendly side), Univers Zero (their "1313" debut album had already been released), plus the mandatory references to Cage, Stockhausen and the Fluxus movement's Dadaist approach. The namesake opener begins with mocking sounds of birds before the instrumental tour-de- force brings a delicious set of mischievous dissonances and playful tensions based on piano, clarinet and violin over a superhumanly busy rhythm section. This is UZ on speed mixed with Magma on crack! And that climax,... just unbelieveable! While this delirious sonic travel was heavily rooted on instrumental interaction, the next few pieces are decidedly focused on digital manipulation (...) Attention all members of the RIO federation: Decibel's "El Poeta del Ruido" is a must.
Text: Cesar Inca (
ProgArchives
)
Carlos Robledo (piano, teclados)
Walter Schmidt (baixo)
Jaime Casteñeda (bateria, percussão)
Carlos Alvarado (teclados)
Alejandro Sanchez (violino)
Javier Baviera (saxofone, clarinete)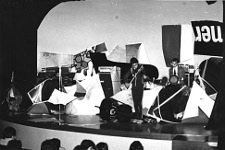 01 El Poeta Del Ruido 7:38
02 Orgón Patafísico - Part I 1:29
03 Orgón Patafísico - Part II 6:40
04 Fakma 3:34
05 El Fin De Los Dodos 3:53
06 Terapia De Fakirato 6:43
07 Manatí 5:27
08 El Titosco 1:55
Bônus:
09 Notas Sin Dueño [Sencillos 1979] 4:42
10 Mucilago Binomial [Sencillos 1979] 2:35
11 Mensaje Desde Fomalhault [En Vivo 1978] 2:45
12 Fragmento Del Poeta Del Ruido [En Vivo 1978] 8:01
13 Algol [En Vivo 1978] 6:27
14 ¿Acaso Estoy En Un Lecho De Rosas? [En Vivo 1978] 3:54
15 Improvisación En Blanco Y Negro [En Vivo 1978] 3:50
16 Falso Jericho [En Vivo 1978] 8:21